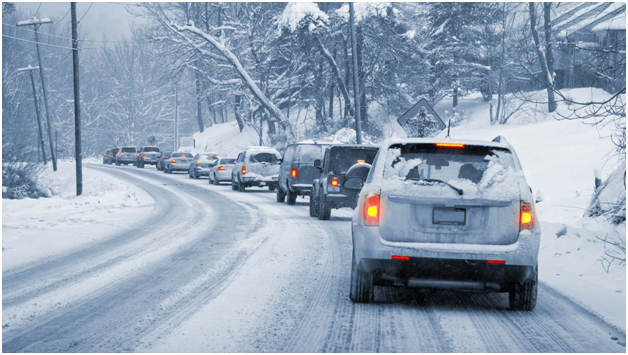 As the temperature drops and snow starts to blanket the landscape, it's time for Jeep owners to prepare their vehicles for winter conditions. Winterizing your Jeep is essential not only for safety but also to ensure your off-road companion performs optimally during the colder months. In this guide, we'll cover key steps and tips for cold-weather maintenance, from tire selection to antifreeze levels and winter driving.
Tire Selection
Your choice of tires can significantly impact your Jeep's winter performance. Here's what you should consider:
Winter Tires vs. All-Terrain Tires: While all-terrain tires can handle light snow and slush, winter tires are designed specifically for cold-weather conditions. They provide superior grip and traction on icy roads. Consider switching to winter tires for the season.
Tire Pressure: Check your tire pressure regularly. Cold weather can cause tire pressure to drop, affecting your Jeep's handling. Keep your tires inflated to the manufacturer's recommended levels.
Tire Chains: If you frequently venture into deep snow or icy terrain, invest in a set of tire chains. They provide additional traction when needed.
Antifreeze Levels
Proper antifreeze levels are crucial for your Jeep's engine. Antifreeze, also known as coolant, prevents your engine from freezing in cold temperatures. Here's what to do:
Check the Coolant Level: Ensure your coolant reservoir is filled to the recommended level. A 50/50 mixture of antifreeze and water is typically recommended, but consult your owner's manual for specific details.
Inspect Hoses and Radiator: Look for signs of wear or leaks in the hoses and radiator. Replace any damaged components to prevent coolant loss.
Winter Driving Tips
Winter conditions demand careful driving. Follow these tips to stay safe:
Slow Down: Reduce your speed in icy or snowy conditions. It takes longer to stop on slippery roads, so increase your following distance.
Use 4WD or AWD: If your Jeep is equipped with 4WD or AWD, engage it in snowy or icy conditions to improve traction. Be sure to disengage it when the roads are clear to avoid unnecessary wear on your drivetrain.
Pack an Emergency Kit: Prepare for unexpected situations by keeping an emergency kit in your Jeep. Include items like blankets, a flashlight, extra clothing, non-perishable snacks, and a first-aid kit.
Clear Snow and Ice: Before hitting the road, clear all snow and ice from your Jeep's windows, mirrors, lights, and roof. This improves visibility and prevents snow from blowing onto other vehicles.
Winter Wiper Blades and Fluid: Swap out your regular wiper blades for winter ones designed to handle ice and snow. Use a winter-grade windshield washer fluid to prevent freezing on your windshield.
For professional winter maintenance and repairs for your Jeep in Parker, Colorado, visit Parker 4×4 – Your Jeep, SUV, and 4×4 Repair Experts! Our experienced team is proud to serve the greater Denver area and ensure your Jeep is winter-ready.
Additional Winter Maintenance Tips
Battery Inspection: Cold weather can be tough on your Jeep's battery. Check the battery terminals for corrosion, and if your battery is several years old, consider having it tested or replaced.
Engine Oil: Use the appropriate grade of engine oil for cold weather. Thicker oil can make it harder for your engine to turn over in freezing temperatures. Consult your owner's manual for recommendations.
Heater and Defroster: Test your heater and defroster to ensure they're working correctly. You'll rely on these systems for visibility and comfort during winter driving.
Brake Inspection: Check your brakes for wear and tear. Icy roads require reliable braking, so replace worn brake pads or damaged components as needed.
Emergency Supplies: In addition to your emergency kit, consider carrying items like a shovel, traction mats, and sand or kitty litter to provide traction in case you get stuck.
By following these winterizing tips, you can ensure that your Jeep is well-prepared to handle the challenges of winter. Whether you're navigating snowy city streets or heading off-road into the wilderness, taking these steps will help keep you safe and your Jeep performing at its best during the colder months.
For all your winter maintenance and repair needs for your Jeep in Parker, Colorado, visit Parker 4×4 – Your Jeep, SUV, and 4×4 Repair Experts! Our team is dedicated to keeping your vehicle in top shape for winter adventures.